My library friend Melissa does a linky party for her
Saturday confessions
every week, and today I'm bored and brave enough to join in the fun.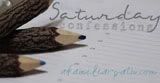 1. I'm blogging at work. I shouldn't be. Shame, guilt, etc. (also no pictures because I'm not on my computer) which leads me to . . .
2. It doesn't matter that I get a day off during the week when it happens, working on a Saturday puts me in the foulest of moods every time. I'd like to blame my renegade on-the-clock-blogging to the foul mood, but I'd probably be loafing anyway, which leads me to . . .
3. I need to think of something more positive. No more grumbling . . . except for this. I'm so mad at myself for the
giant phone debacle
. I ordered a new phone on ebay on Thursday, but I haven't gotten it in yet. I know this is a confession post, but I'm not telling you how much I spent on the replacement phone. It's embarrassing. Let's just say more than I paid for it the first time. I've been moving my sim card back and forth between the semi-functioning new phone and never-should-have-ditched-it-for-a-smart-phone old phone all week, which is a mess. My new phone is on a FedEx truck somewhere in North Little Rock today which leads me to . . .
4. I love tracking packages--or anything--online. When you order from Domino's, they have an order tracker that tells you when you're pizza goes in the oven, who checks the order, when it gets into the car. Since we moved, I've occasionally ordered from Domino's because we've had coupons and such, and they're so speedy.
5. After Thursday, I wanted to take back anything I'd ever said about being good in hospital situations. I went to see Grams at her rehab place, and she was having a really bad day. It was so hard. I fell apart on the way home, and then I didn't go see her last night even though my moma is there. I had all these really logical excuses for why I didn't go, but I'd be lying if I said that how things were on Thursday didn't factor in to that decision. I'm heading in that direction when I get off work tonight though. Time to buck up, little camper.
6. We're remodeling at the library, and there's a huge office upstairs that I'm coveting. I don't know how many planets would have to align for me to get that office, but that motivation and the small butt-kicking I got from my Aunt Donna (who is known for her butt-kicking, but she rarely unleashes it on me, so it was some pretty powerful stuff) on Thursday all add up to applying to grad school for the fall, which leads me to . . .
7. I'm scared of the GRE. I used to be a standardized text rock star (not that it means anything), but the last standardized test I took was in 1996 (because I'm not counting the Praxis II). I hear the Miller Analogies Test is easier and cheaper, so maybe I'm going to take that instead.
8. I've become quite obsessed with
twitter
this week. It makes me feel lame, and I've started following some folks this week who are so hilarious that they make me feel decidedly unfunny, but I sort of love it anyway.
9. I was hungry a minute ago and had the option here at my desk to eat a 90 calorie chocolate chip cereal bar or a Dove truffle egg. Betcha can't guess which one I chose.
I think that's quite enough keepin' it real for one day. Pray for my Grams, if that's your sort of thing. She could use it.